One of the most frequent questions we are asked by new parents and parents-to-be is: What car seat do you recommend?

As you might expect, the answer is different for every family. The short response is that the safest and best car seat for you is the one that best fits your baby and your car. We recommend, per the American Academy of Pediatrics (AAP) Car Seat Safety Guidelines, that your child remains rear-facing until age 2, or until they exceed the height or weight limit for the car seat.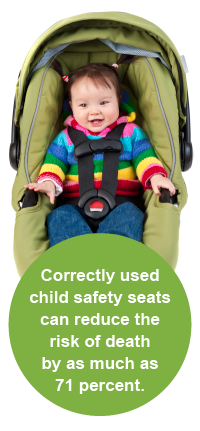 Safety
The good news is that a car seat that fits appropriately, is installed correctly, is within the expiration date and that has not been damaged or recalled can reduce your child's risk of being injured by as much as 71 percent according to Safe Kids Worldwide.
However, according to Safe Kids, 73 percent of car seats are not being used correctly.
One of the most common mistakes made with car seats is not appropriately adjusting the car seat. All car seats have weight and height guidelines to consider, as well as adjustable harnesses that must be individually fitted to your child.
Fitting the car seat is generally easier to accomplish with the seat out of the vehicle, before installing the car seat according to the instructions provided in the manual.
When adjusting the harness, many parents are hesitant to strap baby in snuggly, or try to fit the car seat when the child is wearing bulky outer layers. It's critical to remember that while the seat should be comfortable for baby, a child who is not strapped in tight enough may be ejected from his or her seat during an accident. Straps should be snug. During winter months, take baby's lovey or your child's favorite blanket in lieu of heavy outer layers, or purchase a one-piece that is car seat compatible.
Once you've ensured that the car seat fits your child correctly, most car seats can be installed according the directions provided in the manual using either the seat belt or the vehicle's LATCH (lower anchors and tethers for children) system. 
According to the AAP's Healthy Children website, "vehicles with the LATCH system have lower anchors located in the back seat, where the seat cushions meet. Tether anchors are located behind the seat, either on the panel behind the seat (in sedans) or back of the seat, ceiling, or floor (in most minivans, SUVs, and hatchbacks). All car seats have attachments that fasten to these anchors. Nearly all passenger vehicles and all car seats made on or after September 1, 2002, are equipped to use LATCH."  


Keep in mind that all car seats have an expiration date. At this point, if the seat you are installing does not have LATCH capability, that seat is expired. Most car seats have components that may become brittle or weak as they age, reducing the capability for the seat to protect your child in an impact. If you have questions about the seat's expiration date, or you can't find an expiration date, you can always contact the manufacturer.
Daunted by the idea of installing and fitting your car seat correctly?

 
You're not alone. Thankfully, there are many resources to help parents who have questions about car seat installation. Many manufacturers have video manuals on their websites, as well as help lines for parents with questions. You can also contact a car seat technician to check that the seat is fitted and installed correctly. 
Parents in Missoula or the surrounding communities can make an appointment to have the seat installed or checked during the monthly Child Safety Seat Check weekend with the Missoula Rural Fire Department by calling (406) 549-6172.
Car Seats at La Stella Blu
Here at La Stella Blu, we are passionate about car seat safety. All of the seats that we sell have been tested rigorously, come with innovative safety features and industry-leading impact ratings. You can also find car seats that are not only safe, but eco-friendly and stylish. With those primary considerations, you also want to think about use, stroller compatibility, design, and price.   
Britax
One of our top-selling brands,
Britax
has been an industry leader in child safety for over 70 years as the top-selling European car seat brand. Fun fact: the Britax infant seat, compatible with the popular BOB stroller line, was the car seat of choice for both infant Prince George and Princess Charlotte. La Stella Blu carries the
Britax B-Safe Elite infant (bucket) seat
, as well as rear-to-front facing convertible models and boosters featuring Britax's proprietary SafeCell energy absorption and movement limitation technology.
Clek
We also carry a selection of award-winning rear-to-front facing
Clek
car seats. Clek boasts a world-class manufacturing process and premium material selection with an environmental focus. Clek features GREENGUARD Select Certified Crypton Fabrics that are free of brominated and chlorinated flame retardants while still meeting the federally-required automotive fire-safety standards. Clek also has a recycling program for their car seats designed to reduce environmental impact. The Clek seats that we carry, the
Foonf
and
Fllo
, have anti-rebound bars and are excellent for extended rear-facing.